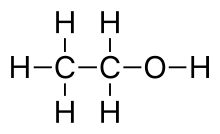 Ethanol
Product Code : 37
Product Description
Ethanol, also called alcohol, ethyl alcohol, and drinking alcohol, is a chemical compound, a simple alcohol with the chemical formula C ₂H ₅OH. Its formula can be written also as CH ₃−CH ₂−OH or C ₂H ₅−OH, and is often abbreviated as EtOH. Ethanol is a volatile, flammable, colorless liquid with a slight characteristic odor. It is a psychoactive substance and is the principal type of alcohol found in alcoholic drinks.
Density: 0.79 g/cm³ (0.46 oz/in³)
Boiling point: 78.37 °C
Chemical formula: C₂H₆O
Melting point: -114 °C
Average Molar mass: 46.07 g/mol
IUPAC ID: ethanol
Contact Us
Office No. 9, Om Plaza, 1st Floor, Abv MC Donalds, Vasantji Lalji Road, Kandivali (W), Mumbai, Maharashtra, 400067, India
Phone :+918068214347